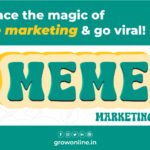 Meme Marketing
August 19, 2023
Elevate Your Marketing with the Power of Video: Engage, Attract, and Connect!
Welcome to a world of transformative marketing where video takes center stage! Let's explore how videos can engage your audience, leave a lasting impression, and effectively showcase your products or services.
Level Up Your Marketing with Video:
In today's digital age, video has become a dominant force in marketing strategies. It's time to take your marketing efforts to new heights by embracing the power of video. Videos can captivate your audience in ways that text alone cannot, making it an essential tool for modern marketers.
Engage, Attract, and Leave a Lasting Impression:
The video has a unique ability to engage viewers on a deeper level. You can create an immersive experience that captures your audience's attention with visuals, sound, and storytelling. This engagement leaves a lasting impression, making your brand more memorable and relatable.
Showcase Your Products or Services Effectively:
Whether you have a product to sell or a service to offer, video is the perfect medium to showcase what you bring to the table. Demonstrate how your product works, highlight its features or show your service in action. Video allows you to present your offerings in an engaging and persuasive manner.
Enhance Your Videos with Eye-catching Effects:
To make your videos stand out, consider adding eye-catching effects. These effects can be subtle animations, dynamic transitions, or stunning visuals that make your content more visually appealing. These enhancements keep your viewers interested and excited about what they're watching.
Track Success and Plan Your Marketing Strategy:
Once your videos are out in the world, tracking their performance is essential. Analyze metrics like views, engagement, and click-through rates to understand what works best for your audience. This valuable data will guide your future marketing strategy, ensuring continuous improvement and better results.
Conclusion:
As you follow the video marketing journey, you'll discover how it can revolutionize your marketing efforts. Videos engage, attract, and connect with your audience on a whole new level, leaving a lasting impression that words alone cannot achieve. Showcase your products or services effectively, enhance your videos with eye-catching effects, and track their success to optimize your marketing strategy.
So, are you ready to elevate your marketing with the power of video? Embrace this transformative tool and watch your brand expand and connect with your audience like never before.